MEET THE CAPTAINS
We have 3 boats for your charter and fishing pleasure. No matter what you need, we have the boat for you! From a six passenger fishing excursion to a 115 person party with full catering, or even just a nighttime cruise.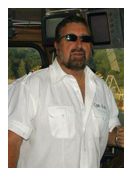 CAPTAIN BOB CEGLOWSKI
For 45 years Captain Bob has been taking people fishing on Long Island, and for 37 of those years he has made his home here in Mattituck. 37 years of exploring every nook and cranny of the local bottom has made Captain Bob the most knowledgeable fisherman in the area and one of the most tenured party boat captains on Long Island. Captain Bob is truly a master captain and has run every type of boat that floats, also offering yacht transport up and down the eastern seaboard. After 37 seasons there are no spots that giant fluke, knot head sea bass, pork chop porgies or trophy striped bass can hide.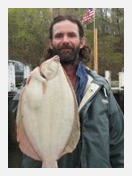 CAPTAIN JAMES WOLF
Captain James Wolf is a lifer and has worked on the Captain Bob for about as long as it has been here. He started off working with his father, John Wolf, out of Montauk running charters and has grown into an avid hunter and a professional fisherman. Capt. James is an excellent black fisherman, and he works hard to catch the trophy fish Mattituck is known for. Capt James runs most of the charters, and you will see that he is dedicated- spending most of his time on deck with the customers and will always put in overtime to make sure your experience is a memorable one. When James is not fishing, he is hunting-it is all he does and he is darn good at it.
CAPTAIN JON BOWEN
Captain Jon Bowen has been fishing the Long Island Sound for his entire life. Captain Jon hails from The Celtic Quest Fleet and with him he will brings new tactics, fish finding knowledge, and a slew of new fishing spots for blackfish, porgies and striped bass on the Connecticut side of the Sound. He will be pioneering new trips both afternoon and night to go where no party boat has gone before! Captain Jon has worked out of Port Jefferson for 15 years as well as out of Orient Point and will always put in the effort and overtime to make your fishing experience a memorable one.
CAPTAIN JOHN WOLF
Sometimes Captains come and Captains go, but sometimes they are taken from us. Captain John "Wolfie" passed away last year and a piece of the fleet passed with him. He was a fine fisherman and excellent captain; we are lucky to have his son to carry on his tradition and skill- he was loved by those that worked with him and by those that shared a spot on the rail- he will be missed.
Check our schedule for open boats, cruises and the fishing seasons...
Call us at (631) 298-5522 or the Boat Phone at (631) 860-4888 for more information